First McLeod New Graduate Nurse Signing Day Held in Florence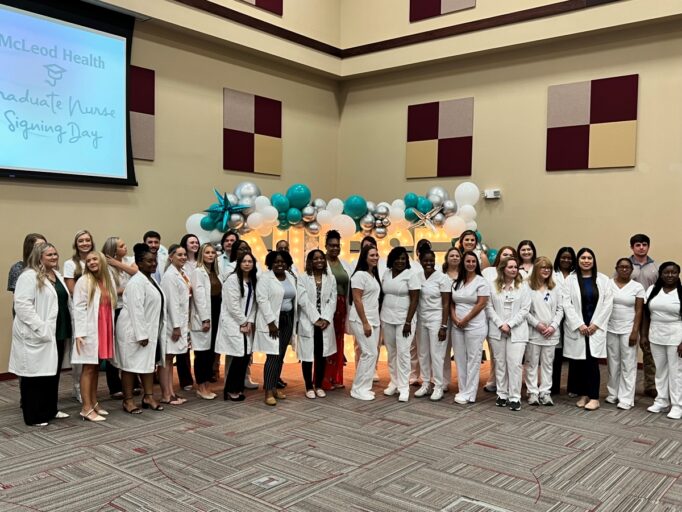 4 JULY 2023
More than 35 new graduate nurses attended a celebration Signing Day event at SiMT in Florence on Thursday evening, June 15.
Designed to be like an athletic signing day event where athletes sign letters of intent to play college sports, these nurses signed their letters of intent to work for McLeod Health. The nurses attending represented the new hires for McLeod Regional Medical Center, McLeod Health Clarendon, McLeod Health Cheraw, and McLeod Health Dillon. The new graduates invited their loved ones for a fun and exciting evening of photos, gifts, and interacting with fellow graduates as they were welcomed into the McLeod Health family.
"As a nurse, I truly understand what this evening means to each of you," said Donna Isgett, RN, President & Chief Executive Officer of McLeod Health. "Nursing is where my heart is. It is what is leading this organization. The sky is the limit on what you can achieve as a nurse."
The nurses attending the celebration were graduates of Francis Marion University, Central Carolina Technical College, Williamsburg Technical College, Florence-Darlington Technical College, Lander University, University of South Carolina, and Northeastern Technical College.
"At McLeod, we work to recruit and retain the best employees. Our greatest asset is our people," added Octavia Williams Blake, Senior Vice President & Chief Human Resource Officer. "We are so grateful you have decided to join our family."