McLeod Health Partners in Nursing Education Program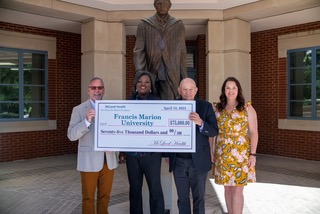 19 APRIL 2023
(Florence, SC, April 19, 2023) – As a partner in nursing education for the region, McLeod Health has made a contribution of $75,000 to Francis Marion University to help maintain their nursing program.
Nursing represents the nation's largest health care profession and the largest single component of hospital staff. Additional nurses will be needed to care for the aging population, who typically have more medical problems than younger people.
"The need for healthcare services is increasing due to many factors including the national shortage of nurses as well as the growing number of aging baby boomers," stated Tony Derrick, Chief Nursing Officer for McLeod Regional Medical Center. "Partnering with Francis Marion University to educate nurses – who will in turn care for the people of our region – directly aligns with our organization's mission and core values."
According to Derrick, nurses serve an important role in the delivery of quality health care.
"McLeod recognizes the enormous value of the nurse's contribution in patient care," said Derrick. "Providing patient advocacy, promotion of a safe environment, participation in shaping health policies and patient education are also key nursing roles."
Because nurses are essential to health care and the region's economy, this area is very fortunate to have a nursing education program at Francis Marion University.
FMU's Department of Nursing offers a full range of nursing programs including BSN, RN to BSN, Nurse Educator, Family Nurse Practitioner, Psychiatric Mental Health Nurse Practitioner and the Doctor of Nursing Practice.
Dr. Fred Carter, President of Francis Marion University, called the latest contribution by McLeod an important part of a vital and ongoing partnership.
"McLeod is the longest continuous contributor to nursing scholarships at Francis Marion University," said Carter. "This generous donation is only one aspect of our partnership. McLeod also provides clinical opportunities for our students in the health sciences, and most critically: they hire so many of our graduates. McLeod has been one of our strongest partners in this community, certainly during the 24 years I've been here, and we couldn't be more appreciative."
"The relationship and financial support of allied health nursing education is imperative to McLeod and our area," added Derrick. "With competent nurses as part of the medical team, McLeod is capable of carrying out its mission of providing quality health care for patients in the region."