McLeod Health Partners with Coker University on Nursing Education Program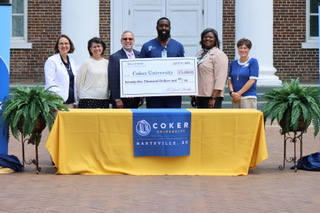 28 APRIL 2023
(Florence, SC, April 28, 2023) – As a partner in nursing education for the region, McLeod Health has made a contribution of $75,000 to Coker University's Nursing Program.
Nursing represents the nation's largest health care profession and the largest single component of hospital staff.
The U.S. Bureau of Labor Statistics projects employment in healthcare professions to grow 16 percent from 2020 to 2030, much faster than the average for all occupations, adding about 2.6 million new jobs. Nationally and in South Carolina, healthcare occupations are projected to add more jobs than any of the other occupational groups, primarily due to an increase in the demand for healthcare services from an aging population as well as increased access to care.
"McLeod recognizes the enormous value of the nurse's contribution in patient care," said Tony Derrick, Chief Nursing Officer for McLeod Regional Medical Center. "Providing patient advocacy, promotion of a safe environment, participation in shaping health policies and patient education are also key nursing roles.
"This gift is a small token of appreciation for Coker University's dedication to educating future nurses and allied health professionals."
Coker University launched its nursing program in fall 2022 and has quickly expanded offerings to include Health Professional to BSN (HP-BSN), RN to BSN, RN to MSN, BSN, MSN and the University's first doctoral program with the Doctor of Nursing Practice.
The gift from McLeod Health will support program development and accreditation as well as an on-campus simulation center where students can practice foundational and advanced skills.
"We are extremely grateful for the support of McLeod Health," says Dr. Carolyn Hart, Dean of Nursing at Coker University. "Coker University is doing truly unique things in nursing education. We are so appreciative of the organization's vote of confidence in all of Coker's nursing program options and in our goal of contributing to a nursing workforce that is compassionate and ready to excel in today's healthcare environment.
"This donation will help move Coker's Nursing programs forward, not only making a huge difference in the lives of our future Coker Nursing graduates but also in improving the quality of healthcare across the region and entire state."
"The relationship and financial support of allied health nursing education is imperative to McLeod and our area," added Derrick. "With competent nurses as part of the medical team, McLeod is capable of carrying out its mission of providing quality health care for patients in the region."
Image Caption (left to right): Dr. Susan Henderson, Provost of Coker University; Dr. Carolyn Hart, Dean of Coker Nursing; Tony Derrick, Chief Nursing Officer for McLeod Regional Medical Center; Raekwon Lee, Coker Nursing Student and McLeod Scholarship Recipient; Charity Gerald, Director of Workforce Development for McLeod Health; and Janet Belew, Academic Nursing Student Coordinator for McLeod Health.